When you need new equipment, how do you decide what is best for you?
With BusinessWare as YOUR IT department we will help you decide on the criteria to make comparisons and allow you to decide which of the available solutions works best. To fill a client's need, we compare equipment possibilities from many manufacturers.
BusinessWare keeps best-selling equipment in stock and we have access to almost all computer or network related products. The full stock of several distributors is available to us for special orders, the closest of which is in Fresno, providing us with next day shipments most of the time.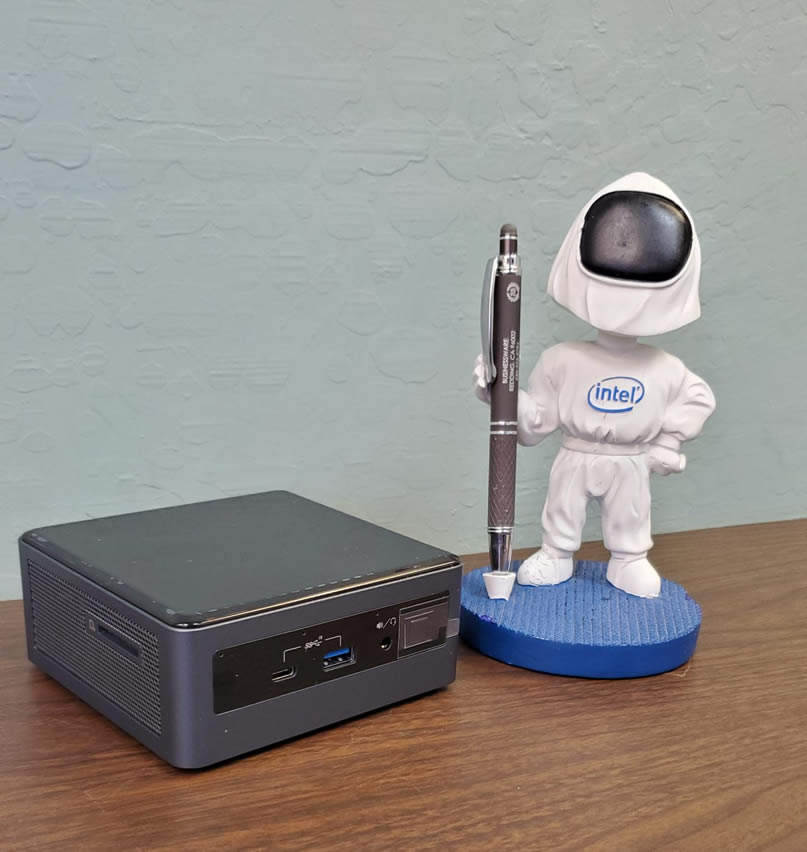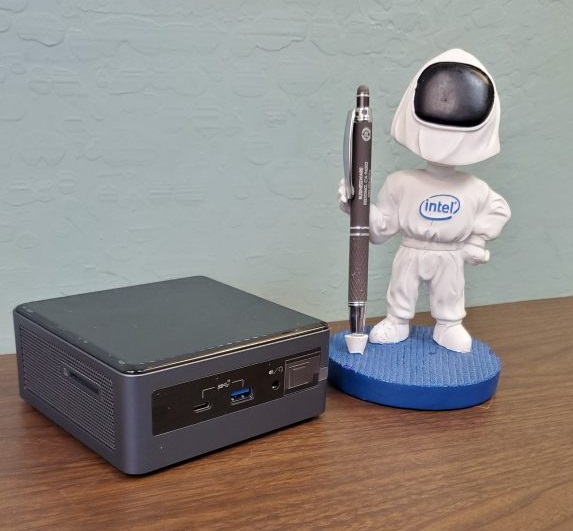 Desktop computers from Intel
The warranty from Intel gets you a replacement computer the next day… for 3 years!
Our business customers really need this warranty, but it is available to everyone with these wonderful, small and fast desktop computers
See that picture?
Current desktop computer technology fits into a box only 5" by 5" by about 2" tall.
Solid state drives, fast memory and Intel processors make this the best desktop computer you can buy. Configurations with i3, i5, i7 and i9 are available with support for two monitors.
Tell us what you do with your computer and we will help you decide on the best configuration, to fit your needs and budget.
Do you want 3 or more monitors or want incredible graphics for your games? A larger computer is needed with room for the video adapter, and we sell those to
Intel Servers for Business
That same Intel 3 year, next business day replacement warranty applies to their servers too.
We design each server for your specific needs.
Intel servers are built from the ground up with platform-wide innovation, including unique processor-based performance and security features, high-performance and low latency networking, and breakthrough memory and storage capacity and performance..
Laptop and Notebook Computers
Our clients count on us to recommend a laptop best for them. Available inventory changes every day. We compare what we can get to what Costco has available and make recommendations.
Whether you buy it from us, or somewhere else, it will perform better if you let us do the setup.
Initial setup of the system, using our best practices, is important because how you answer those first questions can affect the performance of the system.
We install anti-virus, ad blockers and tune your computer for better performance and security.
Call Debbie for help at 530-223-3333
Breathe new life into your slow computers with a Solid State Drive
By imaging your entire hard disk drive to a new solid-state drive, you get a computer that runs almost as fast as a new one, for way less than you would expect. Without losing your files, favorites, or settings, your computer will "run" much faster, but act just the same as it did.
Current technology can greatly increase productivity. You will most likely gain a few more years of service from that computer.
Reliable help with computer system and software choices (since the 1970s)
I highly recommend Wayne Facca and BusinessWare! He tackles any problem with the computer quickly and professionally!
Wayne and company are great at what they do. Very knowledgeable and friendly!
They are very professional and know what they are doing. Very reasonably priced. I have dealt with them for years they have built computers for me and maintained my computers for me.
Business

Ware

is YOUR IT department
BusinessWare was created out of Wayne's desire to be able to provide the best solution for our client, not just a choice from whatever happened to be in stock.